Industrial Boiler Manufacturer Taishan Group attended the 124th Canton Fair in Guangzhou from October 15 to 19 (Phase I). The exhibit categories cover Electronics & Household Electrical Appliances, Lighting Equipment, Vehicles & Spare Parts, Machinery, Construction and Agriculture Machinery, Hardware & Tools, Building Materials, Chemical Products, Energy Resources, etc. More than 8600 exporting enterprises attended the exhibition.
Introduction to Industrial Boiler Manufacturer Taishan Group
As the leading enterprise in terms of industrial boiler in China, Industrial Boiler Manufacturer Taishan Group has attended the Canton Fair for many consecutive years. During this exhibition, our coal fired boiler, oil fired boiler, gas fired boiler as well as biomass boiler were favored by numerous customers from all over the world. Since steam boilers have great advantages in food processing, textile industry and other light industries, many customers have shown great interest in our coal fired boiler, oil & gas fired boilers. Steam generated from steam boilers is sent to various workshops for product drying and other procedures. Our unique technology and advantages in steam boilers won much recognition from many professional customers.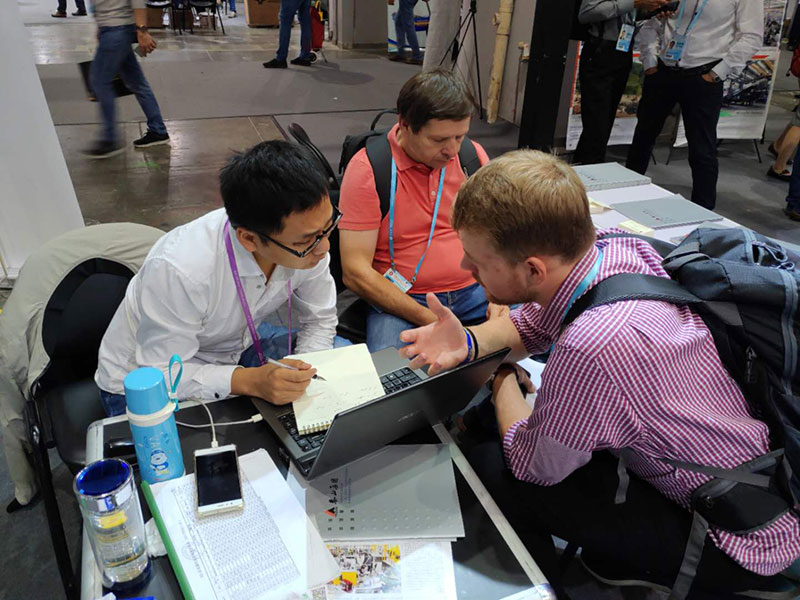 This is one of our clients who made a deal at the Canton fair. He has a food factory in Egypt. As the factory expanded and production increased, he need to purchase another gas fired steam boiler to meet the demand. We signed a contract for one set of WNS8-1.25-Q gas fired steam boiler.
Also there is a client from Columbia and he owns a mine. He needs two sets of coal fired power plant boilers to provide the power to the mining machinery. We discussed some details of the power plant boiler, and he was satisfied with our professional knowledge and factory scale.
In recent years, following the "One Belt and One Road" strategy, Industrial Boiler Manufacturer Taishan Group actively extends the overseas market, promotes Made in China to the world, and improves the global influence constantly. We'll keep trying to supply industrial boilers and power plant boiler with high quality and competitive price.